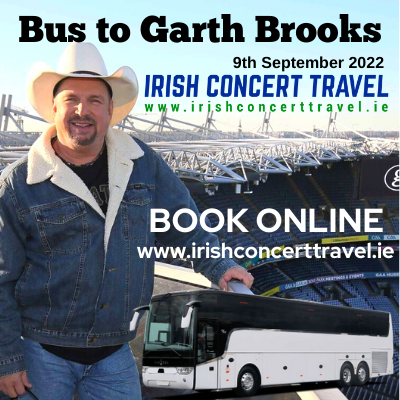 Events Date : 9th September 2022
Location : Dublin
Venue : Croke Park
Bus to Garth Brooks concert in Croke Park Dublin on the 9th September 2022
Garth Brooks has announced his return to Ireland to perform five dates in Croke Park, in September 2022.
Garth Brooks last played in Croke Park back in 1997 and will now take to the stage again on the 9th, 10th, 11th, 16th and 17th of September 2022.
Irish Concert Travel will have return bus services travelling for all of the Garth Brooks concerts in Croke Park, Dublin.
Check out our bus service routes below:
Donegal | Ballyshannon | Cavan
Sligo | Carrick on Shannon Longford | Mullingar
Ballina | Foxford | Swinford | French Park | Strokestown
Castlebar | Claremorris | Athlone
Castlerea | Roscommon | Kinnegad
Galway Plaza Services M6 Motorway | Ballinasloe
Galway Direct
If you have a group and would like to book a private bus to Garth Brooks from anywhere in Ireland click here.
Please Note: Bus tickets are only valid for the date you select. Please make sure you select the correct concert date when booking bus tickets
This is a scheduled, same day return concert bus service. All coaches will drop off/ collect passengers at the designated point arranged by An Garda Síochána and the event organisers. All coach services will be due to depart Dublin 40minutes after the concert ends.
Date
Departure From
Pick Up Points
Price
Book Now
09 Sep, 2022
Sligo
Sligo: Markievicz Rd Bus Stop (Thomas Connolly Bar), 01:30pm
€29.00
Book Now
09 Sep, 2022
Collooney
Collooney: Between the roundabouts on N4, 01:40pm
€29.00
Book Now
09 Sep, 2022
Carrick on Shannon
Carrick on Shannon: Cryans Hotel Bus Stop, 02:15pm
€27.00
Book Now
09 Sep, 2022
Longford
Longford: Axis Centre Retail Park, 03:00pm
€24.00
Book Now
09 Sep, 2022
Mullingar
Mullingar Bus Stop on R156 (Dublin Road Near Mullingar Park Hotel), 03:30pm
€24.00
Book Now
09 Sep, 2022
Donegal Town | Ballyshannon | Cavan
Donegal Town: Quay Street car park near Garda Station, 01:30pm
€35.00
Book Now
Ballyshannon: Bus Eireann Station, 01:45pm
€35.00
Book Now
Cavan: Texaco Filling Station (at McDonalds), 03:30pm
€26.00
Book Now
09 Sep, 2022
Ballina | Foxford | Swinford | French Park | Strokestown
Ballina (Kevin Barry St - near Bus Station), 01:00pm
€30.00
Book Now
Foxford - Bus Stop on Chapel Rd near filling station, 01:15pm
€30.00
Book Now
Swinford - Bus Stop near Gateway Hotel, 01:30pm
€30.00
Book Now
Frenchpark, Roscommon - Bus Stop near Post Office, 02:00pm
€28.00
Book Now
Strokestown (Bus Stop across from Percy French Hotel), 02:25pm
€27.00
Book Now
09 Sep, 2022
Castlebar | Claremorris | Athlone
Castlebar: Stephen Garvey Way Bus Stop , 01:00pm
€30.00
Book Now
Claremorris - Dalton St Bus Stop (Near Leisure Centre), 01:40pm
€30.00
Book Now
Athlone: Applegreen Services, Arcadia Retail Park, 03:15pm
€25.00
Book Now
09 Sep, 2022
Ballyhaunis | Castlerea | Roscommon | Kinnegad
Ballyhaunis - Bus Stop near The Square, 01:50pm
€30.00
Book Now
Castlerea - Bus Stop at Train Station, 02:10pm
€27.00
Book Now
Roscommon: Supermacs Athlone Road, 02:40pm
€25.00
Book Now
Kinnegad Plaza Services, 04:00pm
€20.00
Book Now
09 Sep, 2022
Galway Direct
Galway Cathedral: Coach set down area, 01:45pm
€29.00
Book Now
09 Sep, 2022
Galway Plaza Services M6 Motorway | Ballinasloe
Galway Plaza: Coach set down area, 02:30pm
€29.00
Book Now
Ballinasloe - Bus Stop on Main Street (Near Gullanes Hotel), 03:00pm
€28.00
Book Now