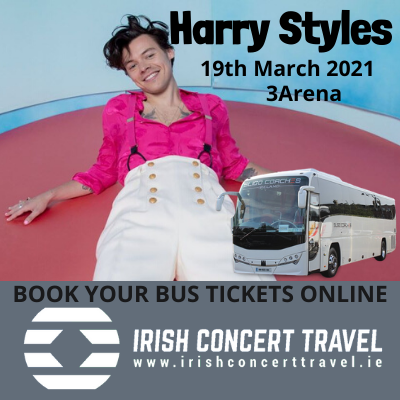 Events Date : 19th March 2021
Location : N Wall Quay, North Dock, Dublin 1
Venue : 3Arena
Bus to Harry Styles "Love On Tour" at the 3Arena on the 19th March 2021
The Harry Styles 2020 world tour, 'Love On Tour,' was due begin in April 2020 in the UK & Ireland. The tour was in support of his album Fine Line, which was released on the 13th of December 2019.
Harry Styles has rescheduled his concert at 3Arena to the 19th March 2021 due to Covid-19 restrictions.
Irish Concert Travel will have buses travelling to Harry Styles from:
Sligo, Carrick on Shannon, Longford, Mullingar
Ballina, Foxford, Swinford, FrenchPark, Strokestown
Galway City, Galway Plaza, Athlone
If you have a group and would like to book a private bus from anywhere in Ireland click here.
Book your return bus tickets for Harry Styles online below or check out our full list of concert services by clicking here. 
This is a scheduled, same day return concert bus service. All passengers will be dropped off and collected in the same location a short walking distance from the 3Arena. This service will depart Dublin 30 minutes after the concert ends.
If you have any problems finding the coach after the concert call 0862364040
Date
Departure From
Pick Up Points
Price
Book Now
19 Mar, 2021
Sligo | Collooney | Carrick on Shannon | Longford | Mullingar | Kinnegad
Sligo: Markievicz Rd Bus Stop (Thomas Connolly Bar), 02:00pm
€27.00
Book Now
Collooney: Between the roundabouts on N4, 02:05pm
€27.00
Book Now
Carrick on Shannon: Cryans Hotel Bus Stop, 02:40pm
€26.00
Book Now
Longford: Axis Centre Retail Park, 03:25pm
€23.00
Book Now
Mullingar: Park Hotel Gate, 04:00pm
€22.00
Book Now
Kinnegad Plaza Services, 04:10pm
€22.00
Book Now
19 Mar, 2021
Ballina | Foxford | Swinford | Frencpark | Strokestown
Ballina - Humbert St Bus Stop (Near Dunnes Stores), 01:30pm
€32.00
Book Now
Foxford - Bus Stop on Chapel Rd near filling station, 01:45pm
€32.00
Book Now
Swinford - Bus Stop near Gateway Hotel, 02:00pm
€30.00
Book Now
Frenchpark, Roscommon - Bus Stop near Post Office, 02:30pm
€28.00
Book Now
Strokestown (Bus Stop across from Percy French Hotel), 03:00pm
€26.00
Book Now
19 Mar, 2021
Galway City | Galway Plaza | Athlone
Galway Cathedral: Coach set down area, 02:00pm
€28.00
Book Now
Galway Plaza: Coach set down area, 02:35pm
€28.00
Book Now
Athlone: Applegreen Services, Arcadia Retail Park, 03:30pm
€26.00
Book Now