3 Arena
Location: 86 – 94 Wall Quay, Dublin, Ireland
Concerts & Events
| Event Name | Date | | |
| --- | --- | --- | --- |
| Bus to New Order – 3Arena 1st October 2023 | 1st October 2023 | Book Now | More Info |
| Bus to Busted – 3Arena 6th October 2023 | 6th October 2023 | Book Now | More Info |
| Bus to Luke Combs – 3Arena 13th October 2023 | 13th October 2023 | Book Now | More Info |
| Bus to WizKid – 3Arena 14th October 2023 | 14th October 2023 | Book Now | More Info |
| Bus to Arctic Monkeys – 3Arena 15th 17th & 19th October 2023 | 15th October 2023 & 19th October 2023 | Book Now | More Info |
| Bus to JLS – 3Arena 20th October 2023 | 20th October 2023 | Book Now | More Info |
| Bus to Biggest 90's – 00's Disco – 3Arena 21st October 2023 | 21st October 2023 | Book Now | More Info |
| Bus to Picture This – 3Arena 25th & 26th October 2023 | 25th October 2023 & 26th October 2023 | Book Now | More Info |
| Bus to Belters Only – 3Arena 29th October 2023 | 29th October 2023 | Book Now | More Info |
| Bus to The Chemical Brothers – 3Arena 1st November 2023 | 1st November 2023 | Book Now | More Info |
| Bus to 50 Cent – 3Arena 6th & 7th November 2023 | 6th November 2023 & 7th November 2023 | Book Now | More Info |
| Bus to Louis Tomlinson – 3Arena 8th November 2023 | 8th November 2023 | Book Now | More Info |
| Bus to Inhaler – 3Arena 11th November 2023 | 11th November 2023 | Book Now | More Info |
| Bus to Melanie Martinez – 3Arena 17th November 2023 | 17th November 2023 | Book Now | More Info |
| Bus to McFly – 3Arena 18th November 2023 | 18th November 2023 | Book Now | More Info |
| Bus to Queens of the Stone Age – 3Arena 22nd November 2023 | 22nd November 2023 | Book Now | More Info |
| Bus to Katie Taylor vs Chantelle Cameron – 3Arena 25th November 2023 | 25th November 2023 | Book Now | More Info |
| Bus to Ice Cube – 3Arena 9th December 2023 | 9th December 2023 | Book Now | More Info |
| Bus to Hozier – 3Arena 19th,20th & 22nd December 2023 | 19th December 2023 & 22nd December 2023 | Book Now | More Info |
| Bus to Depeche Mode – 3Arena 3rd February 2024 | 3rd February 2024 | Book Now | More Info |
| Bus to James Arthur – 3Arena 3rd March 2024 | 3rd March 2024 | Book Now | More Info |
| Bus to Rick Astley – 3Arena 5th March 2024 | 5th March 2024 | Book Now | More Info |
| Bus to Jason Derulo – 3Arena 14th March 2024 | 14th March 2024 | Book Now | More Info |
| Bus to Take That – 3Arena 22nd & 23rd April 2024 | 22nd April 2024 & 23rd April 2024 | Book Now | More Info |
| Bus to Olivia Rodrigo – 3Arena 30th April & 1st May 2024 | 30th April 2024 & 1st May 2024 | Book Now | More Info |
| Bus to The Wolfe Tones – 3Arena 11th & 12th October 2024 | 11th October 2024 & 12th October 2024 | Book Now | More Info |
We offer bus services to the 3Arena Dublin for all major concerts and events.
Check out our full list of concert services below and book your return bus tickets online.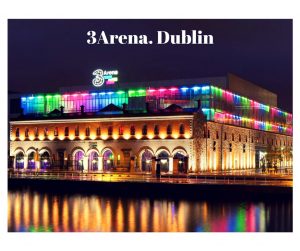 Irish Concert Travel concert bus services operate from:
Sligo | Carrick on Shannon | Longford | Mullingar | Kinnegad Plaza
Ballina | Foxford | Swinford | Frenchpark | Strokestown
Galway  City | Galway Plaza | Athlone
If you have a group and would like to book a private bus from anywhere in Ireland click here.
This is a scheduled, same day return concert bus service.
All passengers will be dropped off and collected in the same location a short walking distance from the 3Arena. This service will depart Dublin 30 minutes after the concert ends.
If you have any problems finding the coach after the concert call 0862364040
No Alcohol allowed on our coaches
Please check our website for timetable changes nearer to the event
Please ensure you book your seats for the correct event as bus tickets are not transferable & no refunds will be issued